I hope somebody here has an idea.

I planned to make some cupcakes for a friend's birthday in about two weeks. I decided to do a 'test run' with the mexican hot chocolate (I think that was their name but my book's in the kitchen right now and I'm lazy/frustrated) cupcakes from VCTOTW.

I've done cupcakes from the book a couple of times now and I usually really, really love them. but not this time. don't get me wrong, they're tasty...

concidering they died on me. they didn't bake up, or rather shrink back and 'fell' in the middle (I'm pretty sure there's an actual term for that)... also, they were really hard on the outside but soft on the inside. so soft it was still almost wet. ugh. ugly.

I guess it's got something to do with the heat, but I don't really know why, especially since this was the first time this happened to me. I feel like crying right now :/
hey folks,

The directions on the box says to add eggs but would the baking powder and baking soda make this unnecessary for leavening? Do the eggs have another purpose I'm not aware of? I don't have enough money for that EnerG product as a substitute for the eggs. Are there any less expensive options?
My mom gave me a commercial cake mix which has baking powder and I think baking soda in it.



Please be kind in any replies, perhaps this is a stupid question to a seasoned vegan and I apologise now if this upsets your sensibilities. Graciously, link me to where I should be looking for answers.
Is it possible to make one's own vegan chocolate say using soya milk?

Waddya think?
Anyone have a recipe to fit my needs?
Thanks everyone! I'm so glad to see I'm not the only passionate vegan baker out there!
I never have time in the morning to eat, so I figured a nutricious, delicious breakfast cookie would be a quick fix!
:

hungry

:

double team- Tenacious D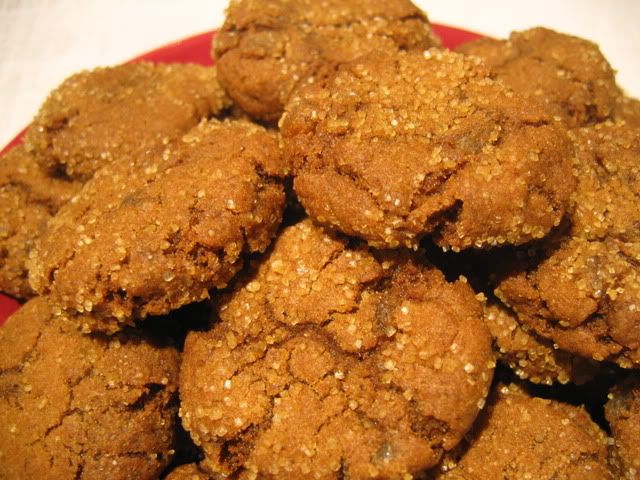 These are SO GOOD. I'm definetely going to make these for the holidays and roll them in red and green sugar. The only thing I have to add to this recipe is that I had to bake them a couple minutes longer. After 6 minutes, I pulled them out of the oven and flattened them a bit with my fingers because they were still in ball-form, and I wanted them flatter. Then I baked them another 2 minutes or so.
Here's a link to the recipe (I love this blog!):
http://hellyeahitsvegan.com/?p=710
(
the original recipe and an ingredient photo
Collapse
)


I have been vegan for 4 years and I found out this week that I am allergic to sugar cane and bananas!! I love baking (muffins, banana bread, brownies) but I have heavily relied on brown sugar and bananas for my baking. I have never used agave and I am wondering if people would post their favorite no sugar and no banana recipes.

Thank you!!
Hello,
(
The vegan french macaron.....
Collapse
)
Can it be done???
Please post any ideas you have for veganising these little cuties which traditionally require about 8 chickens worth of egg whites to bake. I have found no prior attempts to veganise these anywhere on Google but really want to give them a go this weekend!