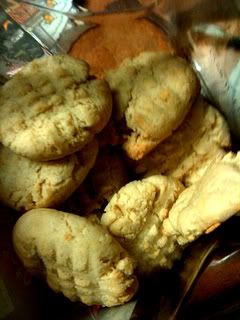 Recipe:
2 cups sugar
1 cup veganaise
4 cups flour
1/2 teaspoon of baking soda
1/2 teaspoon of baking powder
1 1/2 cup very vanilla soy milk
1/2 teaspoon of vanilla
bowl one : mix sugar, veganaise, vv soy milk and vanilla
bowl two : mix flour, baking soda, baking powder
after both the bowls have been mixed completely, mix them together and chill the dough in your refrigerator for an hour.
preheat your oven to 350 degrees.
You can roll the dough out for cookie cutters or just roll it into balls and press it down with a fork/flat something.
10-15 minutes [use your judgement depending on if you like soft cookies or crunchy cookies].
Enjoy :]
Here are some sugar cookies that I made today. :]